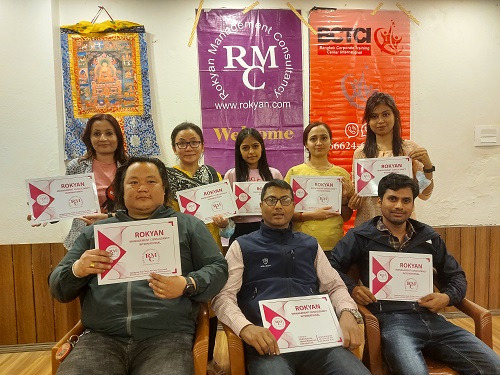 Objectives:
By the end of this course, participants will:
Have a clear process for establishing, clarifying and agreeing their role.
Understand the keys to better communications and begun to practice them.
Learn the most effective supervisory techniques.
Motivate your staff for more creative output.
Improve your problem-solving abilities.
Encourage participation among staff members.
Establish a positive work atmosphere for maximum productivity.
Have a wide range of techniques to improve motivation and enhance individual performance through proven goal setting and performance appraisal processes.
Improve their ability to influence people.
Develop their skills in dealing with difficult situations and people as they arise.
Establish their own leadership tendencies and choose an appropriate leadership style for the typeof team they lead.
Be familiar with the practical steps involved in delegation that succeeds.
Employ different techniques in problem solving and decision making skills which can be adapted to different situations.
Use various motivational techniques for greater commitment and output.
CONTENTS:
The concerns of the supervisor.
The job of the supervisor.
What staff wants from their supervisors?
Creating a collective vision.
Communicating clearly.
Motivating with praise.
Constructive criticism & feedback.
Delegating with confidence.
Effective active listening.
Planning and organizing a winning creative team effort.
Supporting your staff with critical resources.
Communicating for high performance and morale.
Motivating professional employees in a high productivity climate.
The impact of feedback and recognition on performance.
Understanding the difference between "Doing" and "Managing."
Empowering employees for high achievement.
How to manage conflicts assertively.
Counseling employees for improved results.
Practical techniques for managing time.
Improving leadership effectiveness.
What people look for in their jobs?
Managing people.
Motivational techniques for greater commitment and output.
Giving praise effectively.
Counseling for performance improvement.
Delegating effectively.
Goal setting – S.M.A.R.T goals.
Performance appraisals that work.
Introducing new employees to the job.
Motivating your people during change.
Preparing for change.
Adapting to change.
Behavior, Attitude & Beliefs.
The effect of different leadership styles on the team climate.
Choosing the appropriate style in different situations.
Dealing with cultural differences in teams.
The Decision Making Process.
Case studies.
Trainer and Class Room:
PhD Level trainer with international experience.
Teaching Medium
English will be the medium of instruction for this training.
Venue:
Bangkok, Thailand
Course Investment:
1,390 USD (It is NET payment)
Course Investment Covers:
Training
Training Materials
Certificate
Accommodation
Breakfast
Lunch and Refreshment
Exposure Visit
Registration of participants
Last Date for Registration/Payments is July 19,2023
Seats are limited; the applicants will be registered on a first come, first serve basis.
Your seat/participation will be confirmed after your registration/payment. Please fill the attached registration form and send it back BCTCI as soon as possible.
Registration Information
WhatsApp: +97 15 44 59 1231
Email: info@bctci.com